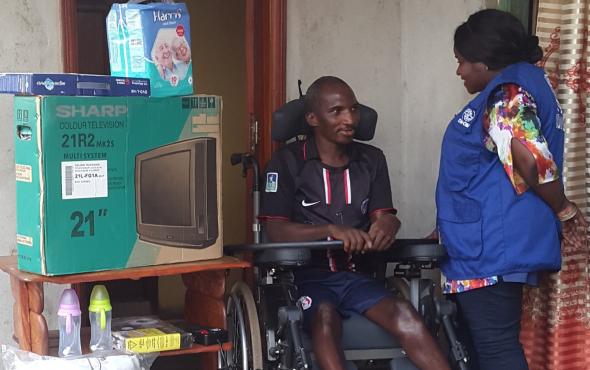 A tailored medical assistance
Affected by a degenerative disease, the condition of Mr. Bah gradually worsened during his long stay in Belgium. A medical escort and tailored assistance were necessary for his return.
A slow deterioration
In 2008, Mr. Bah arrived in Belgium at the age of 27 to apply for asylum. He was first accommodated in the Fedasil reception centre of Morlanwelz, before receiving a negative decision and having to fend for himself.
Mr. Bah is suffering from a degenerative untreatable brain disease. His disease has grown over the years and has gradually restrained his movements. Given his situation, a family had accepted to help him and to give him accommodation. In 2012, his condition having significantly worsened, Mr. Bah could no longer walk and the family had consequently supported his medical treatment.
Returned with a medical escort
In June 2016, the ASBL "Aide aux Personnes Déplacées" in Mons was contacted by the family accommodating Mr. Bah to consider the possibility of a voluntary return to Guinea. The IOM was in turn contacted and came to visit Mr. Bah with a doctor from Fedasil.
Given his situation, Mr. Bah was taken in a nursing home while waiting for his return. Meanwhile, the IOM Conakry contacted his family in Guinea.
Mr. Bah returned in October 2016. For the journey, a stretcher as well as a medical escort composed of a doctor and a nurse were provided. The small group was welcomed at the airport by Mr. Bah's older brothers and the IOM Conakry. Once the paperwork was in order, everybody went to Mr. Bah's home in Conakry. During this visit, the doctor explained Mr. Bah's disease to his family and how to take care of him.
Cover all medical costs
Mr. Bah has benefited from an assistance programme adapted to his needs: the adapted medical assistance after return made it possible to cover the medical costs for a year, such as the daily physical therapy sessions. A special wheelchair was bought in Belgium and special material, such as a medical bed, were directly delivered to his family.
Mr. Bah also received a reintegration support which enabled him to buy material for his living space (a television and DVD player) and to invest in the family sales business of motor oil. A business which enables the family to provide for everybody's needs.
During a mission in Guinea in 2017, Fedasil and the IOM noticed the positive results of Mr. Bah's return. His situation was stable despite his disease, and this is mainly thanks to the constant support of his family. His nephew learnt to give him massages and he closely monitors his health. The television and DVD player play an important role in Mr. Bah's life, along with his wheelchair, his medical bed and the rest of the material. The family is very grateful for all the support he was given.
Source: IOM